FREE

Dispatch Calls to your Phone,
Direct from Customers.
You work hard to pay for your wireless plan. It's time for payback.
We've made it easy for customers to get a hold of you. All you have to do is sign-up.
Piece of cake
Download the app, enter your vehicle and schedule information. That's it! Your phone is ready to receive fares, all it took was 5min of your time.
Killer of Customer No-Shows
If you have ever been burnt by customer no-shows, you will love our prepaid fares. Prepaid fares pay you automatically when you show up under 10min at the requested pickup Read more...
Care-free
Taxi Mojo works quietly for you in the background, and will only buzz your phone when you have a new fare notification. We made it extremely battery efficient, you won't even notice it's there.
Available to all Taxi Drivers
If you are a legitimate Taxi Driver and have an iPhone or Android phone, you can start using Taxi Mojo today.
---
Our prepaid fares are the ultimate weapon against customer no-shows.
Hate it when customer don't show? The Taxi Game hurts everyone, but we can help.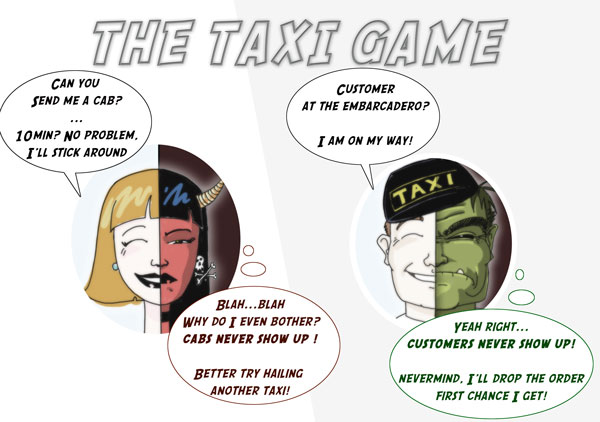 Drivers who fear flaky customers will often drop an order at the first opportunity.
Passengers who fear a flaky driver, will get into the first taxi driving by instead of waiting for the cab they called.
With prepaid fares, passengers & drivers can finally come to an agreement: $10 prepaid towards the fare as long as you show up in the next 10 minutes. As a result you will get at least $10 from customers who flake, but more importantly prepaid customers simply won't flake.