Preview - Because someone said a picture is worth 1,000 words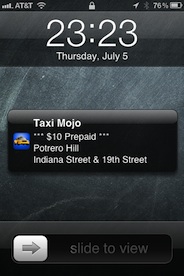 Incoming fare notification
Taxi Mojo works in the background, so you won't even notice it's there until you get incoming fare notifications.
Incoming fare screen
The incoming fare screen gives you all the relevant info. You choose to accept or ignore the fare.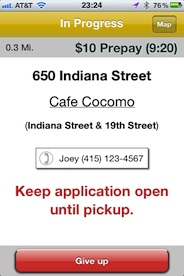 Fare in progress
Your fare screen gives you all the info you need to do your job. Nothing more, nothing less. If the customer shared his/her phone number, you can get in touch with the customer with a simple tap.
Fare complete
As you reach the pickup location the customer is notified, and your screen will update automatically.
Need to ping your customer?
Customer not showing? Taxi Mojo gives you the option to nudge the customer - and mark the customer as a no-show if s/he completely fails to show up.